About 10 years ago we moved from Riverside to Batavia. Both towns are suburbs of Chicago, but Batavia is decidedly less urban and congested and it literally borders on farmlands.
Riverside was a amazing as it was thoroughly and delightfully canopied by the century-old trees. This was the vision of Frederick Law Olmsted, the Landscape Architect who planned the suburban community of Riverside in the late 1860s. Riverside was one of the first planned communities in the United States. You might recognize some of Olmsted's work if you have ever traveled to Central Park or Prospect Park in NYC, the Biltmore Estate in Asheville, NC or one of the numerous college campuses he designed. His creations were blissfully organic and relaxing as the vegetation was designed to block out the harsh realities of the bustles of life and the flow of his map of streets resembled that of a meandering stream.
With that being said about the beauty of Riverside and its antique trees, birds were not seen in abundance - at least not near the houses in which I lived. The converse can be said about where I live now in Batavia. I live in the new part of Batavia (yeah, I know I am one of "those" people) so there are only small trees plopped throughout what is essentially prairie. As a result of these trees being young and small, I am able to see the birds as they sit on their perches or fly to their nests. Also since the area is less congested, I have the melodic pleasure of hearing the birds as well!
I see all kinds of birds Robins, Cardinals, Finches, etc. I also see ducks, geese, blue heron, Red Tailed Hawks and even Sandhill Cranes. (Did you know that when ducks and geese fly overhead the flapping of their wings makes a squeaking noise like a wheel that needs grease?)But what I don't ever see are Bluebirds. I am not really sure why. Are they not native to these parts? Do they not like prairies and waterways? Do they prefer mountains and woods? I don't know.
So today I am searching for Bluebirds as a way to bring the elusive creature into my home. I thought I would share with you some of the wonderful decor and accessories I have found on etsy.
I love the look of this antique planter with subtle hues of blues and yellows. I think the addition of the soft pink roses are just perfect to soften the concerned look of this bird. This sweet planter is available form
Bombshell Kittens.
OMG! A real life miniature nest with a bluebird in it! Divine! I am a sucker for miniatures! Available from
Got Crow Creations
.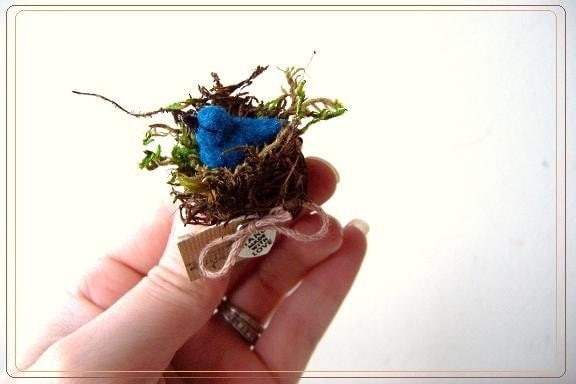 This is a unique take on the Bluebird form - very folk art feel to it. This is a set of primitive bluebirds taking up residence in an old boot! Very clever. Available from
Rabbit Hollow Prims.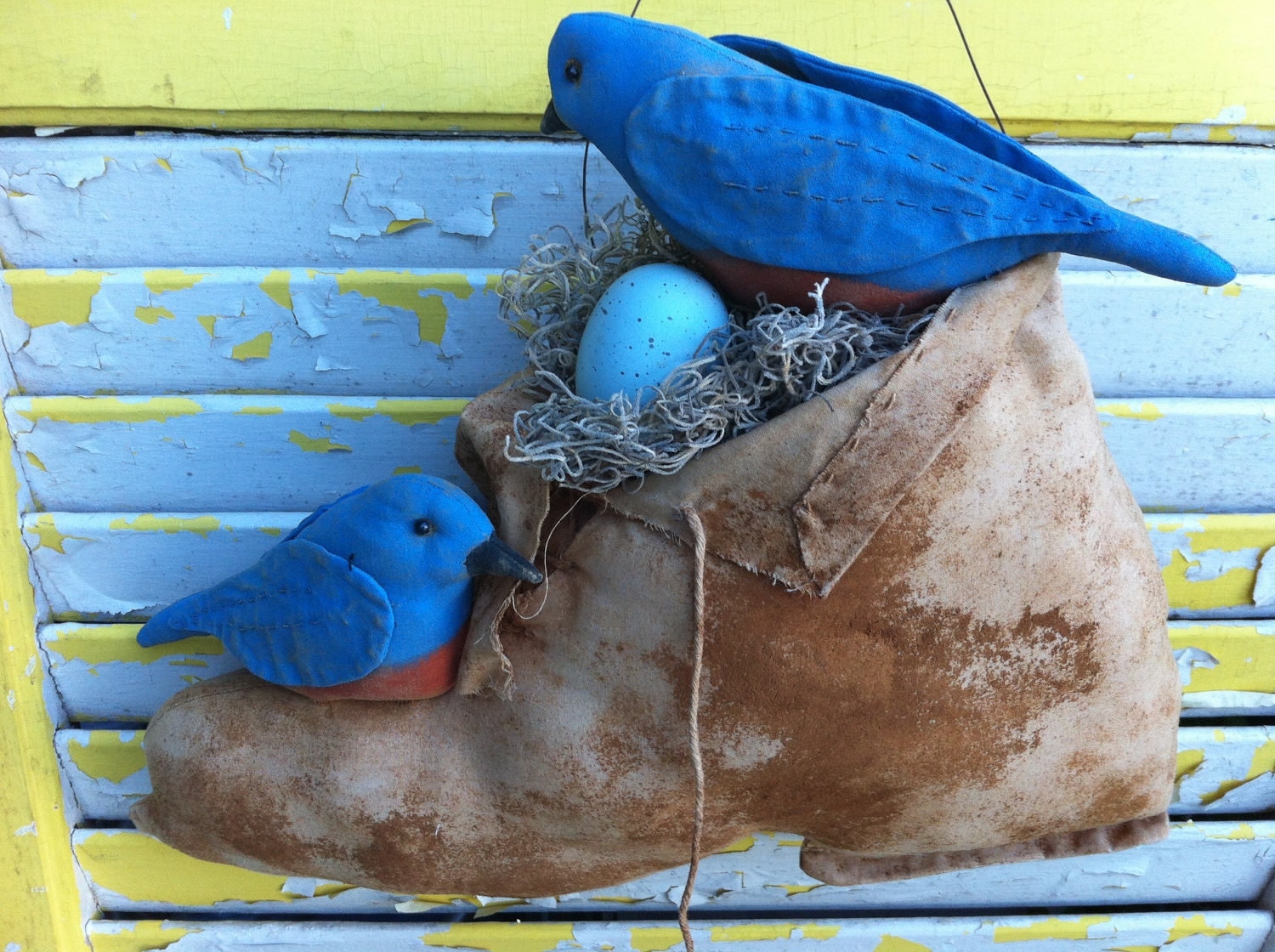 Finally, I love this pair of original paintings. One of the bird and the other of the nest with gorgeous blue eggs. This set is available from
The Painted Sky
. You should check out her work, it is
amazing
!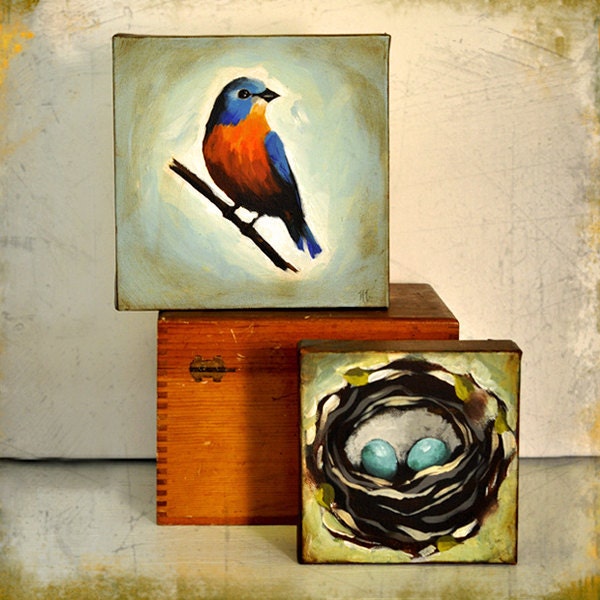 Now like a bird shopping trees for the best place to build a nest, let me decide which might be best for my home.