I have some fun greeting cards I wanna share with you.
I have had them for ages, but they have been buried in my virtual store and hard to find. So today is the day to highlight them.
I am drawn very strongly to vintage photos, well actually to any photos. But vintage photos really transport you to another time and place much like a good book does. I love all the details. Obviously the dress is usually quite different as well as the decor or the cars etc. But there is often something else different about old photos; there is a simplicity of life that comes through. Life wasn't so chock full of "things" or "gadgets". It was a time more about people, family, hard work, etc. Some how that comes through in vintage photos.
Well, anyhow, I digress a bit. Let me share with you the two greeting cards I have made out of some of my favorite old photos.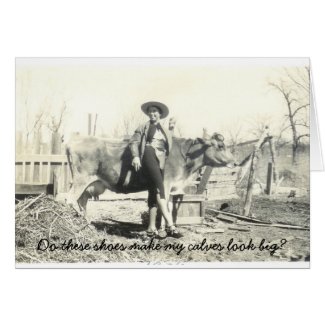 Cowgirl Chic
by
bronc22000
Design unique
custom greeting cards
at zazzle.com.
This cowgirl card reads "Do these shoes make my calves look big?" The inside is blank.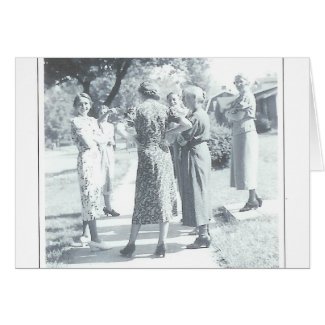 Gossip Circle
by
bronc22000
Browse more
Coffe Cards
On the inside, this gossip card reads "What's the gossip at your end of the block?"
If you like either of these cards, you can click on them and be taken to Zazzle where you can order as many as you like.
I have a stockpile of other old photos that are just waiting for their time to be made into greeting cards, so check back again!